Three days in London: An adventure with kids!
What to do in London with Kids?
All things being English. It's no secret and it's never been: I've always loved England. I studied to be a translator, I taught English for a long while, how could I possibly not love London, the Beatles, the Union Jack? Out of the question! It felt wonderful when my six-year old first said to me: Mom, please buy me Harry Potter. Less than a year later he was ending the saga. The trip was decided, we only had to decide what to do in London.
I do believe something very magical can happen when you read a good book. (J. K. Rowling)
Three days in London: lots to do. Let's start with dinosaurs! A trip to London had long been top on my bucket-list.
I had never been to London before. Too special to make it on my own, I needed a special partner in crime, who could be better than my son? We booked a cosy hotel in what would prove a great surprise: King's Cross…
His eyes wide open, he was all excitement and happiness.
First day in London: Museum of Natural History
Just the time to leave our backpacks, take the tube and find ourselves inside the Museum of Natural History. It's all dinosaurs and whales, insects, birds… and getting to the moon. He loved the quake: You're in Japan, during an earthquake inside a supermarket in Kobe… Our morning goes by fast; it's already three in the afternoon!
A quick sandwich and a look at a couple of maps on our beds, we must be off. Dear little guy, there's another small surprise for you this evening.
As is a tale, so is life: not how long it is, but how good it is, is what matters. (J. K. Rowling)
Back to childhood. I would have loved to visit a seven-storey toy shop as a child. Being invited and welcomed to wander around. Please, touch and see it all. Hamleys is the place to go with kids! We spent the afternoon playing, experimenting with toys as if we were going to buy the world. We both knew we had a limited budget, but that did not stop us from having fun.
The next day was going to be special, there were some wands to get, chocolate frogs and Berti Bott's Every Flavour Beans, so… Who cared much? We had a couple of burgers and went to bed. On the next morning we had an early train to catch and we didn't want to miss our very authentic English breakfast.
[Tweet "Anything is possible if you've got enough nerve. (J. K. Rowling)"]
Second Day in London: Harry Potter and the Crying Game
No, it's not another book of the saga. It's my experience. You've already guessed I'm an emotional wreck: Yes, I am. Leavesden did its best to make me break down. Though tempting, I'm not revealing any detail.
It was just the mixture of everything, images, words, music. Plus the eagerness, the trip of your dreams with your first son who happens to share your taste in literature…
And then the memories, the big door that gets opened and there you are… in the movie, in the book, in the Great Hall! You're walking on the same floors Dumbledore did, and Harry, and Hermione… You become a snitchseeker yourself, and drink butter beer and your photo cameras die their last death since everything is worth a picture.
I remember needing to take a moment all by myself. Sitting on a little bench by a wall, in a little dark side corner, looking around, watching my son in full ecstasy, pretending to appear into the Ministry of Magic, playing and taking pictures of everything. I was there, laughing and crying at the same time, feeling I didn't deserve so much happiness. I have traveled a bit so far… I've been three times to Walt Disney World in Florida, for instance, and never once in my life felt such a mighty emotion. Ever. This was pure magic. Pure bliss.
The visit took most of our day. In the afternoon we almost dragged ourselves to catch a train we missed by seconds, we weren't even able to run up the stairs… We sat in silence, looking at the pouring rain with a silly smile on our faces. We were speechless. I placed my hand over his shoulder, he leaned his head on me and said I love you, mom. I took a little something out of my pocket, at the souvenirs shop I had bought him a good luck charm and it was time to give it to him. Whenever you need me around, if you feel alone or afraid, keep this at hand.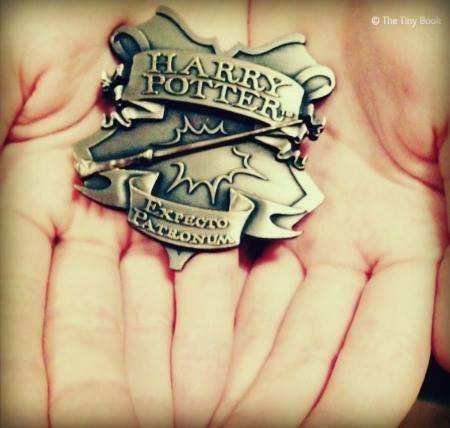 That night we were tired, we took a quick trip to Covent Garden, visited Neil's Yard and Leicester Square, we were exhausted… I'm not ashamed to admit our dinner was two cups of tea and a chocolate frog. He passed out on his bed immediately.
I looked out of the window instead, I could see the clock tower of Saint Pancras Station, Agatha Christie's Miss Marple was on the telly and I made myself another cup of tea. Could I be any happier?
Last day in London: Things end but memories last
Our last morning started under a cold but gentle sun, there was so much to see and the only way to do it was with a Hop on-Hop off bus that could give us the only possibility to take a good glimpse of the city without freezing. We were able to see a few monuments and landmarks, while we were all the time promising ourselves we had to come back and do so much more. Our list includes:
Visiting and (possibly) seeing a play at The Globe
Visiting Buckingham Palace
Spending a whole day at the British Museum
Having 5 o'clock tea (any time is fine, we just want scones and Earl Grey!)
Picnicking at Hyde Park
Having an early dinner at a pub (including a pint for mom!)
Going back to Leavesden
…So many other things I cannot even remember!
At midday we took a double-decker (amazingly enough we could cross that out of our list, who would have guessed!) and went exploring Camden town. We had pizza and lots of fun, everything was different, interesting, stimulating. The mix of eclectic cultures, smells and sounds filled us with energy and gave us the strength to face the truth, our trip was coming to an end, we had to get back to our hotel, gather our things and get to the airport.
No story lives unless someone wants to listen. (J. K. Rowling)
Final words. All in all, this trip meant tears in my eyes from the moment we touched down till we took off three days after. Everything was an excuse to feel moved, everything touched me. Childhood memories of the afternoons spent with my English teacher, Teresa, year after year. Our talks about the Beatles, the Queen, and five o'clock tea.
Setting foot on Covent Garden made me feel like Eliza Doolittle. It was so simple to just close my eyes and hear my own steps rushing home at dusk, too afraid of running into Mr. Hyde.
How I loved London with my son! And how much I missed of it: no Tower of London on the inside, no Harrods, no British Museum, no day trip to Bath, Oxford or Liverpool… Did I miss those on purpose?
One always needs to come back to London… Therefore one must always find an excuse.
A few months ago my son told me he intended to read the saga again, all I could do was smile and tell him – using my own words – what J.K. Rowling once said: And as far as I'm concerned, within my heart, London resembles Hogwarts.
Until the very end. (J. K. Rowling)
*In case you're wondering: I'm a Slytherin, he's a Gryffindor.