Amazing Santorini
A Dreamy Destination… for photo maniacs
It's a fact, Santorini is amazing, it's a dreamy destination. You knew it already, I know. Spending a few days on the island gave me the chance to see the traditional postcard-spot places it is famous for. But it also offered me the chance to discover hidden gems, traditions and infinite blue colors so perfect they look unreal. If you are into photography or if simply like plain beauty, Santorini will put her best dress on and pose endlessly.
Before the departure, I already had lots of ideas for articles that could help you discover new faces of the island. I was sure I was going to talk about things to do with kids, the food, its people, its culture and its celebrations. What I did not know is that I was going to click the shutter so many times to get back home unable to decide which to post… In fact, I'm dying to show you Santorini. I never imagined I was going to be so eager about putting together a picture post of the island. And I'm no pro photographer.
You know how hard it is to keep me silent, therefore it's also difficult to keep my pencil still. Yet, this time I will shut up. I will let the magic Santorini do the talking. Other articles will come in due time. Let me just say one more thing. Are you a photogeek? Then get your camera ready, wear (please do!) the most comfortable pair of sneakers you have, and go to Santorini!
THIRA
THIRA (also Thera or Fira) is the main town on the island. It's on the top of a cliff, facing the caldera. Hustle and bustle never end, people come and go sipping frappes and taking pictures.
Go to Thira early in the morning to get the best light, or visit the village in the afternoon to see outstanding sunsets. I did both, and I don't regret it.
OIA
OIA (also Ia) lies on the top corner of the island, There are two roads to get there. You can reach it passing by Thira, Firostefani and Imerovigli, or you can take the more relaxed road that hugs the opposite coast of the island. Oia is famous for its sunsets, its three blue domes and the flawless contrast between the Aegean blues and the Cycladic whites.
Posh, expensive and exclusive, it is a paradise for photo lovers. If you want a picture of the celebrated sunset, head to Oia early (finding a parking spot is hell!), set your equipment and be very patient. I adored it in the early morning, though: Less crowds and whiter whites!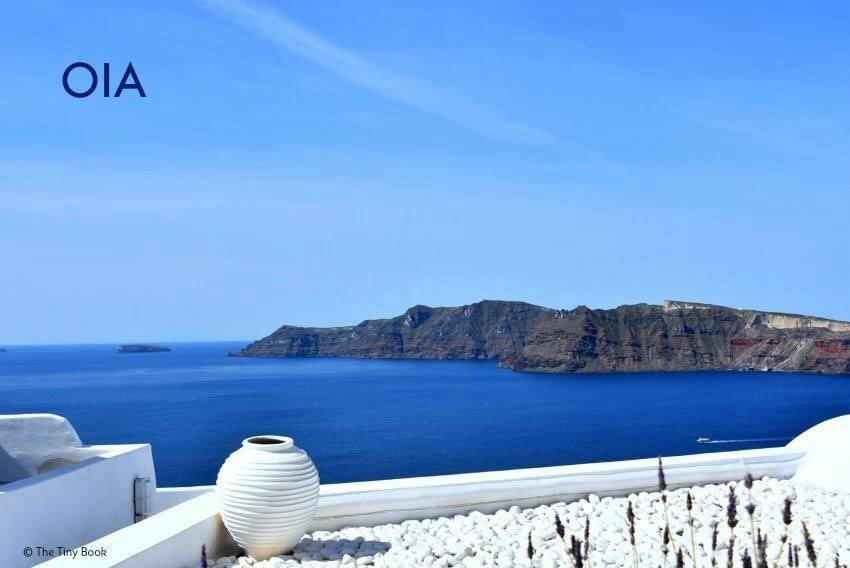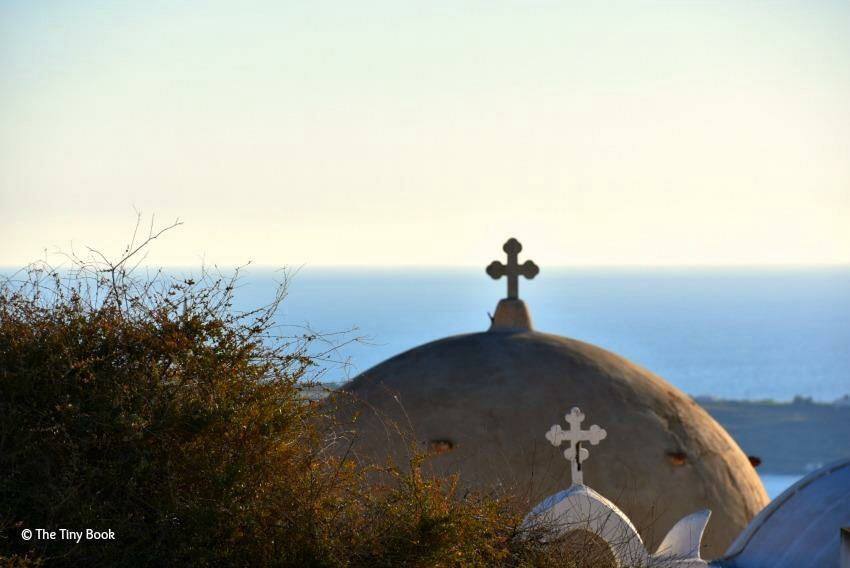 PERISSA
PERISSA is a seaside village on the southeast. Famous for the wide black beach and extreme deep blue waters, it is better discovered and enjoyed during the low season.
The blue domes of Perissa have nothing to envy to the ones you can spot all over the island. The church, very close to the beach, is tiny yet impressive.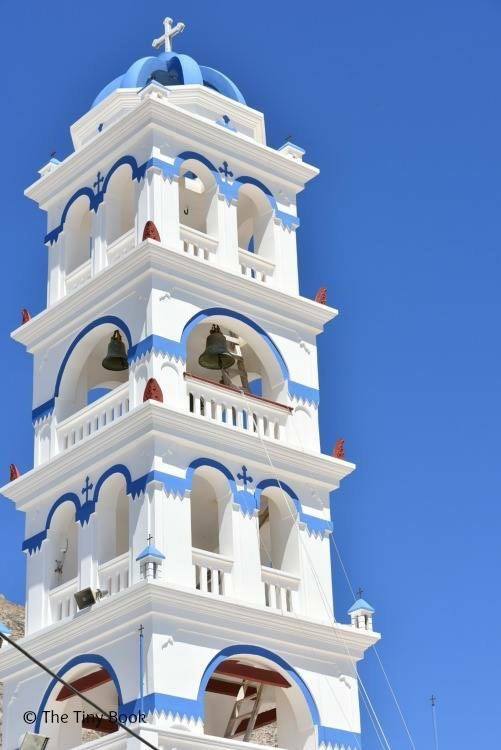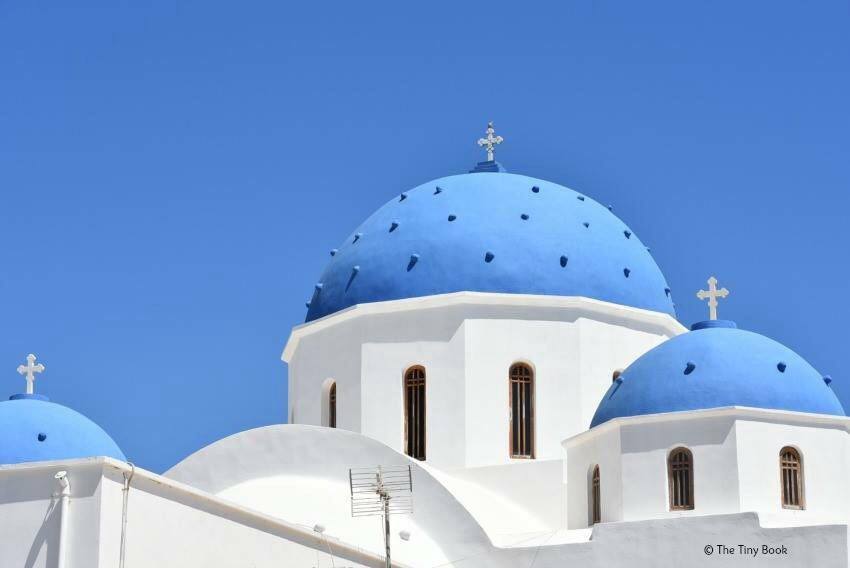 RED BEACH
RED BEACH (Kokkini, Akrotiri area), if you rented a car, getting here would be quite easy. Once you get to Akrotiri, walk along this red rocky path uphill, next to the ocean.
There, a striking beauty of red shades and rusty colors will amaze you. Always full of tourists, you will get the most of it off-season.
IMEROVIGLI
IMEROVIGLI is a small village between Oia and Fira, and it is a beautiful, small town. Its position allows the most incredible view of the caldera you can get on the island.
Sunsets are stunning and more peaceful than in Oia. if you feel like walking, it's possible to reach Imerovigli from Thira (it would take you about half an hour).
KARTERADOS
KARTERADOS is opposite from Thira. Its relaxed atmosphere allows for quite walks in the old town. Cobblestone roads, old constructions and a traditional Cycladic windmill in the main square are as pretty as postcards.
Little shops, tavernas and the typical laid-back atmosphere of Greek island, difficult to find in other parts of Santorni.
PYRGOS
PYRGOS, a traditional town offering impressive views of the rest of the island. Former capital of the island, traditional architecture and narrow paths together with tiny white houses and churches are there to make you experience the life of an authentic Greek village.
A visit during Good Friday is more than a good idea.
VOTHONAS
VOTHONAS, is six kilometers away from Thira, and it is built on a small and narrow valley. There you can see traditional houses carved out of rocks. White and blue churches are stunning, the view of the village, inspiring.
More Santorini
You will find a guide to restaurants, museums, hotels and many activities to do in the different villages of the island. Connect through Google maps (even offline!) to reach any place you want. A flexible one-week itinerary, including a winery tour and thorough directions to reach those secret places where to take postcard-like pictures to impress everyone back home. As easy as it can get, carry it in your pocket!
Want some more pics? Follow Tiny Book