GREEK TASTES: RAKI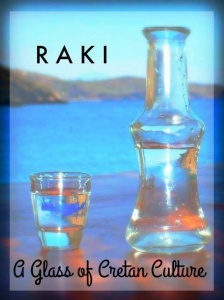 A glass of Cretan Culture, hospitality in a Glass
Cretan Raki (ρακή), or also Tsikoudia, is a synonym of Crete, of its people and the culture of the island. It would be reductive to describe raki as only a drink. There is a ritual involving the moment of drinking a glass of raki. Sharing a little bottle of this spirit represents friendship, hospitality, and communication. Raki is the essence of Crete and its culture.
There is always a glass of raki when Cretans welcome guests. It is on the table when locals have long conversations in traditional tavernas. Originally named Tsikoudia, it was given the name of Raki during the Turkish occupation. They use both names, but the raki still served in Turkey (which is very popular among the Turkish people) has a different taste, resembling more the Greek ouzo than the Cretan spirit.
Distillation
Raki, a transparent liquor, is similar to gin in gradation and color but different in taste. Its characteristic flavor is given by the ingredients and process combined during the production. In autumn, after the grape harvest, the season of wine celebration begins. Then, it's time to start distilling.
Between October and November, raki distillation is a cultural moment of family celebration, as a Cretan friend once told me: There is a big party the night we taste the first glass of the season. Everyone is happy, the elder and the young gather, drink, eat and dance until the next day.
Distillation follows an ancient method, a process maintained for centuries, part of the Cretan tradition. The strafylla (crushed grapes, skins, and seeds), what is left once grapes have been pressed to make wine, ferments for more than a month in barrels. After fermentation strafylly boils in special cauldrons.
Cauldron
The cauldron has 3 parts: the pot, the lid and the pipe to transfer the steam. The producer puts the pomace in the cauldron with water and lights a fire to make it simmer. The fire isn't too strong so as not to burn the pomace. Yet a fire that's too low wouldn't be enough.
There must be a balance in the intensity of flames. After a while, one drop after another, it begins to flow. At first, it is very strong, pure alcohol. But balance, again, is the key. Pure raki must be properly balanced to reach a characteristic taste, gradation, and intensity.
The custom of distilleries was instituted by Eleftherios Venizelos (back in the 1920s). Farmers received special permits or licenses to distill raki and get an extra income. There is at least one inhabitant in every village with a license to produce the drink.
More than a drink
Cretan raki is more than a drink. For Cretans it is the king of drinks: it has a delicious flavor of sweet raisins and a unique level of pureness, containing no dyes or industrial alcohols. It's a fragrant grape-based spirit with about 50-65 % alcohol by volume, mostly home-produced. Mixed with honey (and sometimes a bit of cinnamon), is known as Rakomelo. Icy Raki is served as a refreshment after or before a meal.
A drink that is the metaphor of hospitality. Whenever you visit a local restaurant, the owner of the taverna will bring a small bottle of homemade raki to your table and serve it chilled, straight, in shot glasses.
Don't be surprised if he joins you for a toast at the joyful shout of Gia Mas (Γεια μας!), "for your health", the Greek "cheers". This is how they express their gratitude for your visit, offering it as a complimentary aperitif with fruits and sweets after the meal.
This goes without saying, raki is my favorite spirit (and the only strong liquor I drink). Γεια μας!