CRETE ON THE ROAD:
ELAFONISI



ELAFONISI (Ελαφονήσι), The long and winding road. Being Falassarna our base to explore the western part of the island, we took one day to make a day trip to Elafonisi, a very small islet reachable walking through shallow waters. Expectations were high. Almost as much as they had been for Chrissi Island. The Libyan coast had not d
isappointed us so far. I knew Elafonisi was also going to be a feast. There was a little thing though… a little something I knew was going to give me an upset stomach for the next hours: winding roads to get there.
This On the road adventure all around Crete had been outstanding so far. Fully advisable, incredible, inspiring, fun, educational, tasty… However, the roads were never top of the tops. This one in particular is famous for being difficult and too narrow. Yes, dangerous is the word. You know, however, when you want to reach Heaven, first go through Hell. Therefore we went.
Two possible roads take you to Elafonisi, both of them long and arduous. You can either take a breathtaking journey through the Gorge of Topolia, a narrow tortuous road (don't expect to be driving fast). On this road it can take you from one hour to ninety minutes to get there. You can also reach Elafonisi from Falassarna, without going through Kissamos.
On every routes you can find stones falling down from the mountain, goats are always around, or even stand stubborn in the middle of the road. There are non-stop hairpin turns, all of which made this agnostic blogger start a litany of ecumenical prayer at the very sight of the next tight bend.
After this endless ordeal, when I was almost starting getting confident on the last twirls, the mountains got softer and my ears announced me we were going down. I chilled: The sight of the sea, golden and far eased my spirit and calmed my nerves.
Elafonisi can also be reached by boat from Paleochora, certainly more relaxing than driving.
We got there through Topolia. But I was not brave enough to take that road twice. When it was time to make it back home and my stomach shrank at the idea of that narrow tunnel, so we drove back along and above the West coast of Crete. We enjoyed beautiful views of the sea and the sun going. Sleepy goats made our trip a bit longer, but it didn't matter.
Elafonisi deserves it
Would I do it again? By all means. The beach is magnificent. Crystal clear, warm waters and pinkish sand are not just something you read about in brochures; under certain light shades, indeed, the sand takes a pink glow from corals. These are the colors of Elafonisi. Its trade mark.
Elafonisi looks out over the Libyan sea.
Its waters are of a shade of blue hard to describe, lighter greenish blue near the shore; shiny, almost sparkling neon turquoise close to the horizon.
Beaches to explore are more than one.
You can just lie on and relax from very early in the morning or safely swim and snorkel.
Some people stay in the area more than just for a day. The idea is quite tempting, but Falassarna was just great for us. Elafonisi was amazing, but lonely as well. A high fever could be a problem when matched with such difficult roads (and fever came, of course, the day after!).
Besides, accommodation is not abundant (this makes me guess it might be expensive, though I don't know for sure), reservations have to be made well in advance. If you like camping, well it's not allowed either. Needless to say, most visitors are there just for the day. In September sea daffodils are in full bloom. If what you want is a wild island, go and visit in October. In both months you will find quiet beaches, desert roads and warm water.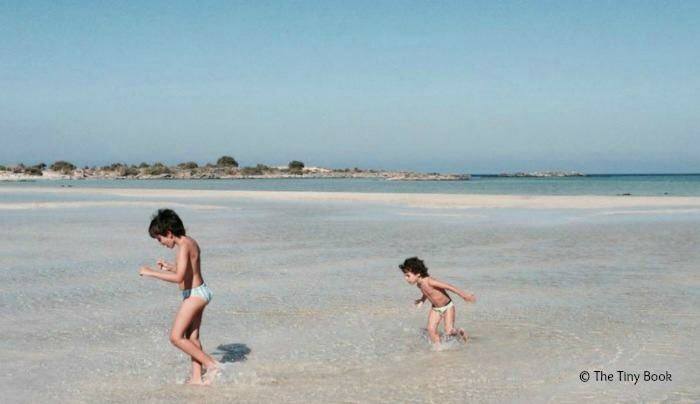 The beauty of this place has become famous. In July and August it's difficult to find a quiet spot. Try to reach Kedrodasos beach, about 20 minutes to the East, along the coast. Pack some fruit, water and sunscreen since there's almost no shade on the island. If you're not the relax type of person, snorkeling is popular. In November, frequent high winds and a lagoon protected from waves make it a great sanctuary for kite surfing.
Elafonisi is a protected nature reserve, respect these rules:
– Don't start fires
– Don't camp
– Don't collect sand
– Don't collect flowers
– Don't litter
– Don't use beach umbrellas…
So there we were, in ecstasy. Ravishing sandy beaches trimmed with pink sand and the blue shades of the lagoon. A sense of wilderness and loneliness. A salty memory and a place I will always want to visit again, my favorite place on Earth, the most beautiful spot I've ever been to. Even if to get there I had to suffer a lot.