15
DELICACIES TO TRY IN ISTANBUL
…without thinking about calories!
We should all experience a trip to Istanbul once in our lifetime. The architecture, the culture and the traditions are worth the visit. Yet, it would be a pity not to go any further… you should at least visit this city and try some of its delicacies forgetting all about diets. And calories!
The Turkish cuisine has received so much influence in history that it has become one of the most prominent in the world. With typically Ottoman traits, it also includes tastes coming from Central Asia, the Middle East, the Caucasus, the Balkans and the Mediterranean. As a bridge between the East and the West, routes for trade also allowed the arrival of exotic ingredients.
A short trip to Istanbul could prove too short (no matter how long it might be) to try as many tastes as possible. Food is everywhere, on every corner. Whenever you get off a bus, its perfumes will invade you. Street vendors offer you all kinds of breads and pastries. Tiny restaurants display inviting dishes. Bakers and pastry shops pile high skyscrapers of sweet full of honey and nuts. In the more touristic areas, everyone will offer you a taste of a Turkish delight. Yes, you will want to taste it all. Be ready! Are you planning to stay for a weekend? Or will you be there for a fortnight? It doesn't matter. There are a few delicacies that are a must taste. Make me a promise, though… forget all about calories!
Lachmacun
An oval, thin piece of dough, Lachmacun, is topped with minced meat, spices and chopped vegetables (onions, tomatoes, parsley, and herbs) and then baked. Its taste is delicate but crispy. You can have it as a lunch on the run while visiting the city, or as a proper starter at a restaurant. It's a popular dish in Turkey.
Midye
(Mussels)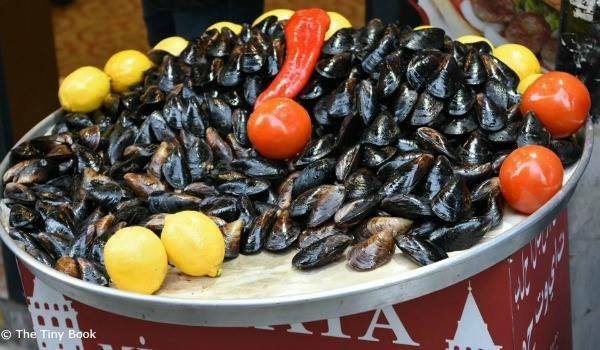 Found almost in every corner, mussels are cooked in enormous rounded pans, served on the go with just a drop of lemon. Delicate but a bit spicy, one could eat tons of them and not even notice. Definitely, make a stop and have a few Liras worth of midye.
Çiğ Köfte
Normally served as a meze (small dish or appetizer), this is a rather spicy raw meat dish, normally made of lamb meat and served cold. Wrap a little portion inside lettuce leaves squeezing some lemon drops on top of it. It's savory and has a strong taste. Truly delicious.
İçli Köfte
Fantastic starters. They come in the form of fried croquettes made of minced onions, ground beef or lamb meat and spices. A popular and rich dish that can be a bit spicy, but not much. Also known as bulgur koftesi.
Lavaş Ekmeği
This very thin kind of pita bread is served hot and directly from the oven. It arrives at your table as big as a balloon and it loses the air inside little by little, remaining soft, flat and easy to separate. Eat it spreading a mixture of butter over it, that melts with the heat. Add a rather spicy, savory cheese, tulum peyniri, which gives a pleasant salty taste.
Manti
These very small dough dumplings filled with minced lamb or beef meat and onion might remind you of the Italian cappelletti. Well, you will be deceived, they are not similar at all. They are served with hot tomato sauce and a good amount of yogurt on top that adds that extra touch of acidity, giving this dish a unique touch. A favorite dish of many Turkish families.
Balik Ekmek
Even if you are not a huge fan of fish, please, please! Do not miss this… It's simple but absolutely tasty: A grilled fish sandwich with lettuce. Sounds plain? Well, it is! Only that the bread is fresh, soft and tasty; the fish cooked by the sea, inspiring. The lettuce adds a touch of crispness that also grants color and enhances the flavors. I had imagined this was going to be the end of the world. It was.
İskender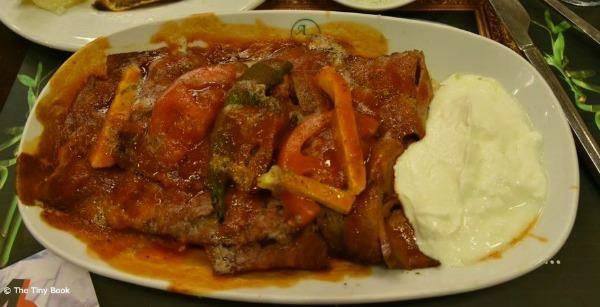 İskender kebap is a well-known meat dish in northwestern Turkey. It is prepared from grilled lamb roasted and cut thin, served with hot tomato sauce placed over pita bread. It is generously accompanied with melted butter and yogurt on the side. This dish is easily found in plenty of restaurants with the names of İskender kebap or Bursa kebabı, from the region where it was created.
İncir
(Figs)
Figs, as well as all dried fruit and nuts, are a true delicacy. Mostly sold in abundant quantities in bazaars and markets. The quality is superb and the sizes outstanding. Ask for one to try and you will be wanting to take home more than a kilo. Sweet, tender and with a unique taste, Turkish figs are a real gem in the culinary crown of the country
Türk Kahvesi
(Turkish coffee)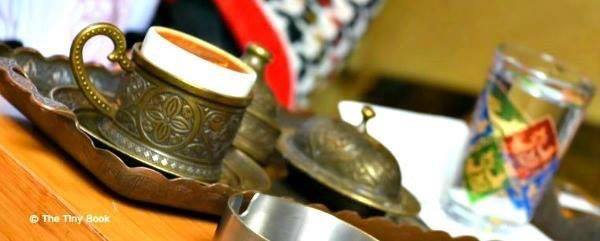 This is a rather strong beverage. It is an unfiltered coffee made with roasted and finely grounded beans which are simmered inside a cezve (or pot), some people prefer it with sugar. The grounds settle in the cup once it has been served. Turkish coffee is an Intangible Cultural Heritage of Turkey confirmed by UNESCO.
There are four degrees of sweetness in Turkey: sade (no sugar); az şekerli (half a teaspoon of sugar); orta şekerli (one teaspoon); çok şekerli (one and a half or two teaspoons)
Çay
(Turkish tea)
Turkish tea, çay is a variety of black tea drank without milk and typically prepared using two stacked kettles (çaydanlık) designed to prepare it. Water is boiled in the lower kettle and then some of the water is used to fill the smaller one on top and infuse some loose tea leaves, producing a very strong tea. Once it is served, the remaining water is used to dilute the tea on an individual basis, giving each consumer the choice between strong (koyu), medium (tavşan kanı, literally rabbit blood) or light (açık). They serve it in small, tulip-shaped glasses with cubes of sugar. If in the mood for something even more delicate, sweet and tasty, try elma çay, or apple tea… It's addictive!
Baklava
Baklava is a super caloric, rich and sweet pastry made with layers of filo or Philo (a very thin unleavened dough) that has chopped nuts and greats amounts of honey or syrup. A characteristic dish from the Ottoman Empire.
Ayran
The national drink of Turkey, Ayran, is a cold yogurt drink with water, salt and yogurt as main ingredients. Ayran is served chilled to go with grilled meat or rice.
Sahlep
Sahlep is a flour made from the tubers of an orchid, containing glucomannan. It is used to produce a vanilla-flavored drink, of a milky consistency, normally served with cinnamon powder, ideal to heat you up after long walks in the cold Istanbul Winter.
Lokum
(Turkish delight)
These worldwide famous Turkish sweets, which no tourist ever fails to take back home, are a traditional jelly-like sweet, made with gel, starch, and sugar. There are many varieties as well as tastes. Some of them also may contain pieces or whole nuts. Traditionally, they are flavored with rosewater, lemon, orange or mint.
Our friend and guide in the city, Corc (George), was amazingly helpful when writing this post.